Rags to riches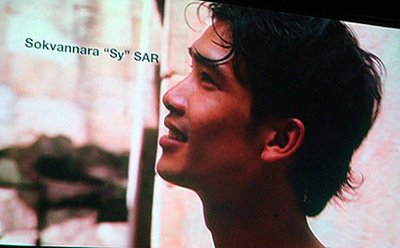 Sokvannara Sar is an unusual Cambodian performer. Instead of performing traditional Khmer dance, he is a rising star of classical Western-style ballet and brought his art to Phnom Penh in 2006 when he danced at the opening of the then-new American Embassy in the city to great acclaim. He's come a long way in a short time after he was spotted by arts patron Anne Bass in a dance group at Preah Khan temple in Angkor and given the opportunity to study ballet in New York. Better known to all as Sy, he has adapted incredibly well to his new life in the United States and appears on course to make a big name for himself in international ballet. His rags to riches story was the focus of
Dancing Across Borders
, a documentary by Anne Bass, which enjoyed a preview screening at the French Cultural Centre last night. Her sympathetic portrayal gave a glimpse into the sheer hard work needed to make an impression in the fiercely competitive world of ballet and how Sy has grasped his chance with both hands. Among the invited guests, popular Cambodian crooner Sapoun Midada, who sang the film's closing song, mixed with luminaries such as senior minister Veng Sereyvuth, former Ambassador Roland Eng and the new United States Ambassador Carol Rodley.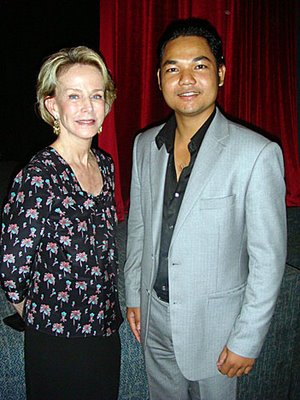 Film director Anne Bass with Khmer singer-songwriter Sapoun Midada at last night's screening

The song that closed last night's film is called
Pouk Euy, Me Euy
, or Dear Father, Dear Mother, and sung by Sapoun Midada, a superstar amongst Cambodia's music-hungry fans. Alongwith Preap Sovath, Midada is at the very pinnacle of the music scene in Cambodia and writes many of his own songs. He's particularly known for his sentimental love songs though the song for the film was based on a county boy who moved to the city to support his family by playing guitar, something which Midada is also well-known for.
Labels: Dancing Across Borders, Sapoun Midada