Hush hush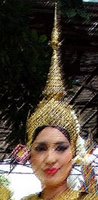 An unofficial first showing of a brand new story,
Hang Yunn
, by the students and teachers of the classical dance school of the Secondary School of Fine Arts will take place this Tuesday (9th) at the Chenla Theatre in Phnom Penh at 6pm. Don't tell anyone, but turn up and get in on the night, and it's free. Performances of new classical works are rare but with the fantastic collaboration of Amrita Performing Arts, they are increasing slowly but surely though each work takes many months to prepare and train the dancers before it can be incorporated into the repertoire and performed in public. I haven't managed to find out any details of the Hang Yunn story so I'll be there on Tuesday to see it for myself.
It's a busy weekend on the
football
front. Bayon Wanderers, the mish-mash of expats and Khmer players that I joined a couple of months ago, have a game at 2pm today at the Old Stadium and then two more games tomorrow, in the morning and afternoon. Fortunately we now have a large squad of players to select from, and fingers crossed my dodgy groin will hold out, though the dark clouds hovering overhead may put the games in some doubt. The Old Stadium is now run by the Armed Forces and as such they will cancel games at short notice depending on the weather situation. It's understandable as the games are friendlies and there are a dearth of good pitches in and around the capital, so they need to protect their pitch.