Nick Ray in today's Post
Guide writer earns local cred
Arriving as a location scout for Tomb Raider - the movie that put Angkor back on the tourist map - Lonely Planet's Nick Ray knows his Siem Reap
-
by Peter Olszewski, Phnom Penh Post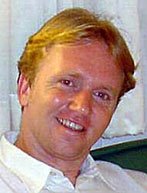 The Siem Reap-Angkor complex has notched up another world first this month, becoming the first of three regional centres, and the first non-coastal attraction, to be featured in Lonely Planet's new Encounter books, aimed at short-term travellers. The series was launched in May last year, initially as city guides to locations such as London, Paris and Barcelona. The publishers decided to expand this concept to regional centres and this month released three books: one each on Phuket, Ko Samui and Siem Reap-Angkor. "Despite the headlining act that is Angkor, Lonely Planet says Siem Reap has its newfound status as Asia's historic hotspot," the publisher stated. "And in recent times, the town has undergone a metamorphosis from a quaint village to a centre for the international jet set."
The book is compiled by Nick Ray, a familiar name to Lonely Planet aficionados as he's authored a host of guide books. With this publication, he emerges as the world's foremost expert on Siem Reap, despite not being a resident. Ray lives in Phnom Penh, and some mutterings have emerged that it's a bloody disgrace that the world's foremost expert on Siem Reap is a blow-in from the big smoke down south. But, as Ray asserts, he packs plenty of Siem Reap cred. While he has never called Siem Reap home, he's been a regular visitor for many years. "I've spent a lot of time in Siem Reap on projects," he declared. "When I worked on Tomb Raider I lived here for about four months, and I tend to go there at least ten times a year. Ray was a location and logistics guide for the Tomb Raider movie and, if one accepts the notion that the movie helped put Angkor on the international tourist map, he deserves honorary Siem Reap residency for his role in the location being chosen for the movie.
To recap Hollywood-meets-Siem Reap history, Tomb Raider, the first Hollywood movie filmed in Cambodia since Peter O'Toole's 1964 Lord Jim, was originally slated to be a Chinese-located movie based around the Terracotta Army coming to life. But that concept was pulled when a Chinese movie featured the army. Cambodia was next on the list because in early 2000, Cambodian expat personality and prominent blogger, Andy Brouwer, was in Gloucester, England. He was visited by Sam Breckman, the London-based locations manager for Paramount, who had seen his website, and wanted to discuss the possibility of using Cambodia as a location for an Oliver Stone movie, Beyond Borders. Nick Ray, who had already edited a Cambodian guide book, was also in the UK. Brouwer introduced Breckman to Ray, and within a week Ray and the producer flew to Cambodia. Cambodia was chosen as the venue for that movie, but Stone pulled out. Paramount temporarily shelved that project, but opted to use Angkor for Tomb Raider. Ray told the Post he was aware at the time of filming that the movie would have a big impact on Angkor. "That was very much foremost in our minds, because it was obvious that Angkor was coming into prominence and Cambodia was no longer solely being associated with genocide and the Khmer Rouge and terrible things," he said. "Tomb Raider was a turning point in Cambodia's history. And now I watch tour guides completely inventing stories about what happened during the filming of the movie."
Ray's Siem Reap Encounter book reflects his extensive knowledge and fondness of the area. "I absolutely enjoy the place," he said. "One of the things I like most about Siem Reap today is the variety of restaurants and that it's now a lively town, which it never used to be. You can dine on very good Cambodian food, Asian food, international food, and then stay out quite late - unlike in Hanoi or Bangkok where they have curfews. It's a very open place now, and quite international. This has happened over the last five years, and the real take-off was from about 2003 and 2004. Before that there were only a few bars in Siem Reap. The first one was Angkor What?, which opened in early 1999 even though they claim they opened in early 1998, then the Red Piano, and Ivy." Ray said he also loves the back streets and side alleys of Siem Reap, which many tourists never get to see. "Another of my favourites is the shady back lanes. Following the east bank of the river further north from the Royal Residence residency, you have a lot of wats. It's a pretty area, with local street markets, more like the 'real' Cambodia.
Ray of course cites the temples and Tonle Sap as other wonders, but he does have criticisms about Siem Reap's unplanned sprawl. "The traffic is getting bad, and returning from the temples in tourist rush hour in the late afternoon is fairly crazy. There's also a lack of focus in the planning. There's not enough vision of where Siem Reap needs to go, or any attempt to control this development in a positive way. Everyone in Siem Reap seems to be playing catch up. It would be nice for them to get ahead of themselves, and have plans in place rather than constantly trying to rectify earlier problems."
Article copyright Phnom Penh Post & Peter Olszewski