Note your diary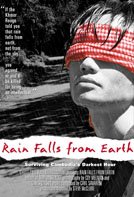 Hot off the press.... there will be a premiere screening of
Rain Falls From Earth
at the Meta House in Phnom Penh on Saturday 9 August, so the film's director, Steve McClure told me by email today. Mark it in your calendar. The film is appearing at a bunch of film festivals in the States right now and when McClure returns to Cambodia in a couple of months, he'll bring a copy of his documentary with him - even though he hasn't yet completed shooting.
In the wake of the Vietnam War and not far from it, one of the greatest tragedies the world has ever seen took place. To this day, it seems that relatively few Americans know about it. "I basically knew nothing about it. I barely knew where Cambodia was," said filmmaker Steve McClure, recalling when he first began to read about the tyrannical Khmer Rouge regime that killed an estimated 2 million Cambodians in the late 1970s. "I started doing some research about how this massive event in history happened, and really no one knew that it happened. "I just started finding (survivors) through the Internet and was just intrigued by their stories. I thought this would really be a good subject to tackle." McClure's curiosity spawned the film "Rain Falls From Earth," which chronicles the personal accounts of eight Khmer Rouge survivors and their tale of struggle and perseverance in one of history's darkest hours.
In one of the highlights of this weekend's International San Joaquin Film Festival, McClure will be on hand Sunday to discuss the film after a screening at University of the Pacific's Faye Spanos Concert Hall. One of the survivors also will be in attendance. "If they told you that rain falls from Earth, you agreed or would be killed for being an intellectual," goes the tagline for the movie that took McClure on two personally enlightening journeys to Cambodia, where he talked not only with Khmer Rouge survivors, but also members of the regime itself. "We visited an entire village of former Khmer Rouge," he said. "We interviewed three former members that are in the film. It was very eerie. It was a throwback to the '70s. They live like nothing ever happened; they all seem to be in denial. "I liked having that perspective on it," McClure added. "I let them tell their own story just like I let the survivors tell their story. I didn't judge them. I just asked them questions about what they did and what they saw."
McClure hopes to return to Cambodia in the near future to gather more footage for "Rain Falls From Earth," which is narrated by Sam Waterston, the star of the only Hollywood exploration of the tragedy, 1984's "The Killing Fields." "It seems like the first question out of everyone's mouth is, 'Why are you doing this?' " McClure said. "I think if I can talk about my interests and how these people and this film touched me, that's an insight that people want to know. People can say, 'You're a white guy living in America. Why do you care?' But it's just built over time; it's this passion that takes you over."