Nat Geo highlights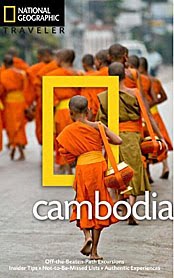 Guidebooks. Love them or hate them, they are here to stay. Separate sections of some guidebooks can now be bought on the internet to save you having to carry around the whole book on your holiday. You can buy the Temples of Angkor section of the Lonely Planet guide to Cambodia for example. Or if you are gadget savvy, which I definitely am not, then you can travel with your guidebook at your fingertips inside your iPod or iPhone.
The number of guidebooks that focus on Cambodia is increasing year on year and I'm still leafing through the new
Nat Geo Traveler Cambodia
edition which the publishers sent to me last week. The more I read, the more I like it. At the start of each of the geographical chapters, they offer their 'not to be missed' suggestions and in the book's opening introduction, they also offer their countrywide suggestions. These are:
A moving visit to Tuol Sleng Genocide Museum and killing fields, Phnom Penh
Experiencing floating village life on the Tonle Sap
Sunrise at Angkor Wat
Watching the Phare Ponleu Selpak circus perform
Seeing authentic apsara dance
A day trip to Banteay Srei temple, Kbal Spean, and surrounding attractions
Touring French colonial ruins and relaxing by the river in Kampot
They've split the chapters geographically and I've chosen one at random, Eastern Cambodia, to give you a flavour of their 'not to be missed' choices, which are as follows:
A Mission Aviation Fellowship flight over the Mekong*
Eating tarantulas in Skuon
Seeing Irrawaddy dolphins near Kratie
Swimming and tubing in Ratanakiri's Yak Laom Lake
Experiencing hill-tribe life in Ratanakiri or Mondulkiri
Mahout training with the Elephant Valley Project in Mondulkiri
One of the ever-present problems with guidebooks is that information changes and can quickly become out of date. Take the *Mission Aviation Fellowship flight over the Mekong for example. MAF had been operating a small aircraft to northern and northeastern provinces in Cambodia since 1995 but because of the improved road conditions, this service ceased at the beginning of this year.
I was also pleased to see mention of my pal Eddie Smith and his microlite adventures. His company Dragonfly Cambodia gets a box with the following info:
Looking to get some serious air? With Dragonfly Cambodia (tel 855(0)92-533-269), you can take a microlight flight with one of the most experienced pilots in Cambodia. Eddie Smith has flown over all but two of Cambodia's provinces, shooting film and assisting with surveying and research projects. With a few weeks to spare and a serious commitment, he can even train you to fly an ultralight on your own, although there is no licensing procedure in the country to certify your accomplishment. Day trips are available at $200 per hour.
I can speak from personal experience of Eddie's flying skill and the amazing adrenalin rush to be had by flying with him and his microlite. For further evidence, click
here
.
Labels: microlite, Nat Geo Cambodia