In love with Cambodia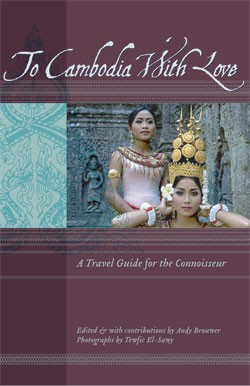 Don't believe everything you read in the press, or on the internet for that matter. Amazon and Barnes & Noble, two of the top on-line book sellers, are promoting the publication date of 1 March 2010 for the new guidebook
To Cambodia With Love
-
A Travel Guide for the Connoisseur,

to be published by ThingsAsian Press
. As I only finished the final manuscript at the weekend, there's not a cat in hells' chance of it being published in under a month. Now if I had got off my arse and got the book completed in its original timeline, it would've been ready by then, but it'll be at least 3-4 months before there's a possibility of smelling the first freshly-printed edition (I love the smell of new books).
The promo blurb provides the following synopsis of the book, just to give you an idea of what to expect: From a tarantula brunch in the remote Cambodian countryside to a spiritual encounter with the god Vishnu in the National Museum in Phnom Penh, To Cambodia With Love is a true collaboration, containing personal essays by more than fifty writers [Ed. actually it's more than 60]. Among them you will find Angkor Wat expert Dawn Rooney, acclaimed memoirist Loung Ung (First They Killed My Father), and Lonely Planet's in-the-know Nick Ray. Each essay is paired with a practical fact file so that travelers can follow in the writer's footsteps. In addition, the book is illustrated with vibrant, full-color photographs. With its unique insights into dining, shopping, sightseeing, and culture, To Cambodia With Love is a one-of-a-kind guide for the passionate traveler.
Can't agree more. The photographs in the book will come from the camera of
acclaimed photographer Tewfic El-Sawy, who is based in New York and regularly leads
photography tours to India, Sikkim, Indochina, Indonesia, and the Himalayan Kingdoms of Nepal and Bhutan. You can see his work here. Also read the publisher's latest.
I will expect all of my blog readers to buy a copy - yes, both of you, including the one who only reads the football posts. This is not a definitive guidebook in the Lonely Planet sense of the word, it is a book by people who are truly passionate about this country and who want to share their passion with you. Something I've been doing for more than a decade already. Fortunately you don't have to suffer my inept writing too much in the book, as it's the contributors who grab the limelight, and rightly so.

Labels: Tewfic El-Sawy, ThingsAsian Press, To Cambodia With Love