Hatful of goals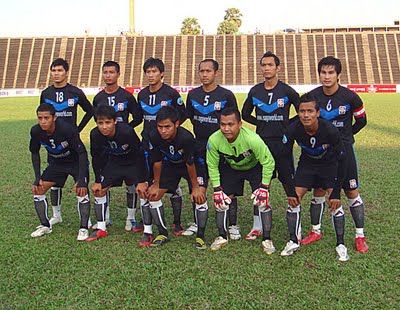 Reigning League Champions Naga Corp progressed at the expense of Chhma Khmao

Sunday's
Hun Sen Cup
games served up a hatful of goals and kept the fans entertained. Naga saw off the CPL newcomers Chhma Khmao 6-2 much to the disappointment of the Olympic crowd who'd favoured the underdogs from Svay Rieng. In the first match, Build Bright United showed their class with a 7-0 win over Prey Veng, to put the provincial upstarts firmly in their place.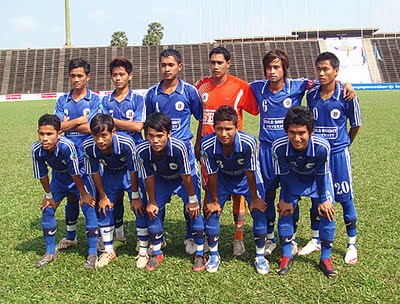 The all-Khmer BBU line-up that faced Prey Veng

Naga were not only up against the Black Cats of Svay Rieng but also the crowd, who showed their pleasure when the CPL new boys opened the scoring through the busy Mak Chhordaravuth. They were deathly quiet when Naga's Sun Sovannrithy rifled home the equaliser a few minutes later. Sovannrithy was playing in an unfamiliar striking role though spent most of the time on the floor, being upended constantly by the Svay Rieng defenders. A minute later he was floored again, this time by keeper Pen Socheat, who had the last laugh when he saved Teab Vathanak's penalty. After the break, Naga continued to press whilst Svay Rieng maintained their plucky and dogged resistance. Vathanak did find the net when he fired through a forest of legs but Svay Rieng levelled again when Pov Phearith's 30 yard free-kick arrowed into the net like a cannonball. A stunning strike. That spurred Naga on and Om Thavrak put them ahead again before two headed goals from Vathanak sealed his hat-trick and Sovannrithy also cashed in to add the gloss in a 6-2 success.
BBU were way too hot for Prey Veng to handle and coasted into a six-nil half-time lead, as it looked like another double figures result was on the cards. However the youngsters from the Chab Meas provincial team did much better after the break restricting the BBU students to just one more strike, in their 7-0 success. BBU skipper Prum Puthsethy led the way with a hat-trick, Om Chandara netted twice with sub Sophat Chansikunthina and left back In Vireak also getting on the scoresheet. BBU now face Naga in the quarter-finals in a few weeks time.

Labels: Hun Sen Cup, Om Thavrak