Sovannara leads from the front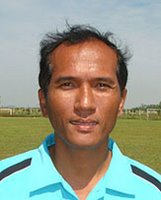 Improved coaching will be one very important step towards football in Cambodia getting on a par with some of the better countries in the Asian region such as Vietnam, Thailand and Singapore. The Asian Football Confederation, as the governing body of the sport in the region, organises regular coaching courses at all levels for the coaches of the future in the countries under its jurisdiction. Cambodia is no exception and a very welcome AFC 'C' coaching certificate course began at the National Sports Complex today. Led by Cambodia's only AFC Regional Instructor,
Prak Sovannara
(pictured), until recently the country's national coach, this will give 30 Khmer participants, drawn from Phnom Penh and the provinces, not only invaluable experience but also the opportunity to continue their coaching education and a shot at the 'B' and 'A' licences in the future. Sovannara is the only Khmer 'A' qualified coach. The course will last from today until 20 July and all the participants must already hold a 'D' licence or received exemption. Included amongst the roster for this course is Van Piseth, who has just been included in the coaching line-up for the Cambodian national team under the new boss, Scott O'Donell. It is vital that the coaches who qualify from the course then take their technical and tactical knowledge into the schools, junior clubs and senior teams within the Cambodian Premier League, to begin the grassroots steps needed to make that much-needed improvement in Cambodian football. They have a long way to go but as the Cambodian proverb says, 'a journey of 10,000 miles begins with one step.'
Prak Sovannara will also soon begin the task of putting together a squad of under-19 players to represent Cambodia at the AFF U19 Youth championships in Vietnam in early August. He was the national youth team coach before he took on the top job for a year and saw Cambodia through to the Suzuki Cup finals at the end of 2008. Now that Scott O'Donell has returned as national coach, Sovannara has resumed his duties with the under-19s and will select 25 players from the current crop of talented youth players with teams in the Cambodian Premier League. The U19 championships will take place in Saigon from 4-16 August and Cambodia have been drawn in a tough-looking Group B that also includes Australia, Thailand and Laos. They will begin on 5 August against Thailand at Thanh Long Stadium and then meet Laos on the 8th and Australia on the 11th.
Labels: Cambodia football, Prak Sovannara