Meet the coach
Prak Sovannara
about his own career as a player and coach before becoming the Cambodian national team coach midway through last year, and the first surprise is that he's just 36 years old, making him one of international football's youngest coaches. Born in November 1972, he made his debut for his country at 21, retired from playing at 27 to concentrate on coaching and took on the national team hot-seat last year at the tender age of 35. He's Cambodia's only Asian Football Federation A-licence qualified coach, coaching at junior, youth and club level before taking the top job after Korean coach Yoo Kee-Heung was sacked. Sovannara is quick to single out the influence of Joachim Fickert, whom he played under in the national team when the German coached the Cambodia side during the 1990s. "I learnt so much from him, about organization, tactics as well as how to handle players on and off the pitch, " he said.
Sovannara's playing career began at 17 for the Civil Aviation team in the 2nd Division. As a wide right-sided midfield player, he combined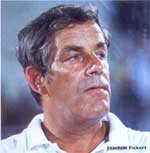 football with his sports teacher studies before joining the more-fancied Division 1 Royal Bodyguard team in 1993 - a move to a club that swept all before them in the top flight of Cambodian football during his half a dozen years there. 1993 also saw him make his international debut against a visiting USSR U/19 team, at the age of 21. It was in 1995 that Cambodia, with Sovannara as a regular in midfield, took its first tentative steps back into re-establishing its international presence. They took part in the SEA Games in Chiang Mai though their years of isolation clearly showed, conceding 32 goals and scoring none in their four matches. A year later, with Fickert (pictured) now at the helm, they took part in the Tiger Cup in Singapore, where they lost all four games, in the SEA Games in the Indonesian capital of Jakarta in 1997, where they won twice and narrowly missed the semi-finals, and finished third in the Presidents Cup in the Philippines the same year.
1999 was a watershed year for Sovannara. In the SEA Games in Brunei, he was to play the last of his international matches for Cambodia, as well as parting company with his successful club side. He passed his B-licence in coaching that year and decided that coaching was where his future lay. He was 27 years old. Though he'd been involved in coaching schools and junior teams, he now moved up a notch, as assistant coach to the national youth team for the next three years, before another step up, this time as assistant to the new Cambodian national coach Scott O'Donnell for a couple of years. In 2006 he tasted a year in charge of club side Phnom Penh Empire, leading them to runners-up spot in the Cambodia Premier League before returning to coach the national youth team at U/17 level. Seemingly groomed for the top job in Cambodian football and definitely the best-equipped homegrown coach, Sovannara was the man the FFC turned to after the departure of Yoo Lee-Heung and following a few early forgettable results, he gained immediate success by guiding the country through qualification to the finals of the AFF Suzuki Cup. The next challenge will be to qualify for next year's AFC Challenge Cup finals with success in Bangladesh next month, as well as a good showing at the SEA Games in Laos at the end of the year. It won't be an easy task but Sovannara has shown he's prepared to take on that challenge, as he continues to shape and define his youthful squad.
Labels: Cambodia football, Prak Sovannara