Where Elephants Eat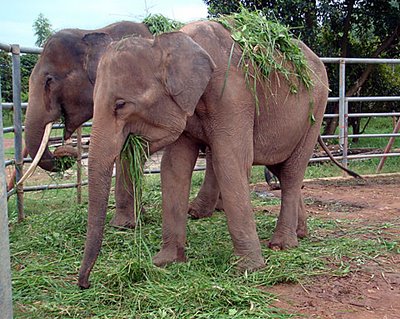 Munching away to their heart's content at Tek Chhou Zoo near Kampot
I couldn't resist my own take on the forthcoming first-ever Khmer Rock Opera,
Where Elephants Weep
, which will get its Cambodian premiere at the Chenla Theatre in Phnom Penh on 28 November. These two gentle beasts can be found enjoying their grass lunch at Tek Chhou Zoo near Kampot.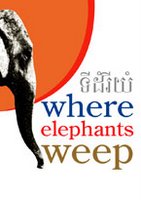 As for the opera, the public relations juggernaut that is backing the show has gone into overdrive and leaflets, posters, press releases, previews and just about everything else (I'm sure t-shirts, coffee mugs, logo-encrusted underwear, etc will be available soon) is flooding Phnom Penh as I type. It's sure to be a real spectacle as Cambodian and American music theater combines together to raise the bar of professional art performance with this ground-breaking show of a modern Khmer love story, merging local traditions with Western musical structures. I've booked my ticket, have you booked yours?
To experience it for yourself, here is the performance schedule:
World Premiere VIP Performance - 28 November 2008
6:00pm Champagne Arrival
6:30pm Performance
8:30-9:30pm Cocktail Reception
Tickets: GOLD Circle $250, SILVER Circle $150, BRONZE Circle $100
Gala Night Performance – 29 November 2008
6:30pm Performance
8:30-9:30pm Cocktail Reception
Tickets: Exclusive Seating $75, Premium Seating $50, General Seating $25
General Admissions Performances: 5, 6, 7 December 2008

6:30 Performance
Tickets: Exclusive Seating $12, Premium Seating $5, General Seating $2
The ticket reservation hotline is +855 (0) 23 220 424, 017 603 408. Or email at
Info@whereelephantsweep.net
. Their website is
here
.