Surviving Cambodia's darkest hour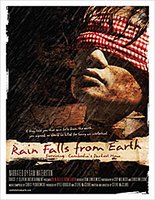 This is my final reminder that film director Steve McClure will be hosting a Q&A after the Cambodian premiere of the feature documentary,
Rain Falls from Earth: Surviving Cambodia's Darkest Hour
tomorrow (Saturday) night at Phnom Penh's Meta House on Street 264. It's a story of courage, a story of survival and a story of eventual triumph over the genocidal regime that was responsible for the deaths of more than 1.7 million Cambodians. The voices of many survivors - including Vann Nath, Em Theay and Thida Butt Mam - are heard as they convey their thoughts, ideas and emotions - the very things they were forced to abandon in the killing fields. Narrated by Academy Award nominated actor, Sam Waterston, this film gives a voice to those lives that were senselessly lost.
The screening begins at 7.30pm, admission is free and everyone is welcome.
Visit here
for more information about the film.