Vann Nath speaks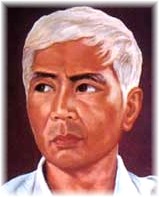 Thirty years ago this December, celebrated Cambodian artist
Vann Nath
was arrested, accused of being a CIA agent and interrogated at Kandal pagoda in Battambang before being transported to Phnom Penh where he spent exactly one year in the hell-hole that was Tuol Sleng, the nerve centre of the Khmer Rouge killing machine. He survived and his current exhibition of paintings at the Bophana Audiovisual Resource Center (at Street 200), which lasts until 12 October, tell the story of his arrest, transfer and the first few months of his imprisonment at Tuol Sleng.
Most of the paintings at the exhibition have been completed this year – though two are from 1996 and 1997 - and are a mixture of acrylic and oils, with each painting accompanied by pencil drawings of the scene. They include his arrest at Kandal, his transfer by truck to Phnom Penh, his arrival where all prisoners were photographed, the meagre rations prisoners were given and the decision by the prison commander to give Vann Nath the job of painting portraits of Pol Pot, that ultimately saved his life. Also included in the exhibition which is called 'Transfer' is a painting by the artist of a rural Cambodian countryside scene, as well as photos of his face portrait taken by the prison photographer on his arrival.
Accompanying the exhibition is a hand-out that was written by Vann Nath himself: My name is Vann Nath. I was born in 1946. I was a political prisoner in Tuol Sleng (S21) between 1978 an 1979. This is an overview of my activities in S21 from January 7, 1978 to January 7, 1979.
I was arrested on December 30, 1977 in Cooperative Number Five, Commune Number Five, District Forty-one, Fourth Region, Battambang. I was accused of mobilizing a movement against the Revolutionary Policy and of being a CIA agent. But in the file made out on me in the prison, they put down "Painter in an enemy zone." Afters even days of being tortured and interrogated at Kandal Pagoda in Battambang, I was transported to Phnom Penh with over thirty other prisoners in two trucks.
When we got to Phnom Penh on January 7, 1978 at midnight, I did not realize it was Security Office S21. I only knew one thing, that this detention center had been a school. When we got there, the first thing they did was subject us to several interrogations. We were then handcuffed and blindfolded before being led into the center. We were tied together with a heavy rope around our necks. We were then towed along to another place in the prison where we were photographed and our measurements were taken. Then they back on the black blindfolds that they had removed at the time the pictures were taken and we were pulled up to the second floor of Building D where we were confined by our legs to a set of iron stocks with all the other prisoners. That took place the same night, about 3 o'clock in the morning. At that point they removed our handcuffs.
I was confined with about 30 prisoners, friends arrested in Battambang. There were about 50 of us altogether in this room, including those who had come earlier. The iron stocks were such that twenty prisoners could be confined together. I lived in that common room for over a month. We were given food twice a day, about 8 in the morning and 8 at night. We would get five tablespoons of rice gruel for each meal.
Early in the morning we were awakened to do physical exercises. They kicked us in the head to wake us up and if anyone was slow to respond, he was kicked in the head with shoes made of car tires. For the exercises, two cases full of excrement were put between the ends of the bar of handcuffs and we had to jump back and forth over them. A noise rang out "Rong Raing… Rong Raing." We had to keep jumping until they ordered us to stop. It was impossible for me to do that. We had no strength left and we were so weak that we could hardly hear anything, and we didn't have the energy to do these exercises. But out of fear of being whipped by their ropes, we forced ourselves to do them.
Every night the guards frisked us several times. I couldn't understand why they did this. They took everything they found, even a small stretch string to keep one's pants up. Older prisoners started dying off one by one. That is when I lost all hope of living. I thought I would surely die here because the four or five spoonfuls of gruel that we were given was not enough to survive on. Some of my friends in the same room were called in for interrogation and went missing. But those who came back had wounds all over their bodies and were bandaged up. They were in pain and cried out when they were sleeping.
When someone died, the corpse was not taken right away, but left for one day and one night. In other words, we had to sleep and eat with it right beside us. All of us had white lice and suffered from skin outbreaks all over our bodies. In just one month we lost everything that identified as human beings. We no longer felt anything but hunger. I could see part of a coconut palm through the window and thought about what it would taste like. I thought if we could just get a branch of leaves of some young coconuts, I could eat all of it.
Once every four or five days we were sprayed with water through the windows with water pumped up mechanically from below. We were sprayed as if were a heap of vegetables. Those who were far from the hose only got their hands or fingers wet. There was no way of cleaning the area before going to sleep. So we just took our clothes off and used these. We all suffered from scabies. One day when we had had enough, a guard brought us some black oil that was swabbed all over our bodies except for the eyes, giving us the appearance of animals that had come out of hell.
Sometimes during the night, insects such as crickets or grasshoppers would fly into our room. We would catch them as soon as they landed and gobble them down before the guard could see us. If we were caught, we were given a beating with the car tyre shoes across the face or on the cheeks until the insect was spat out, the treatment resulting in black eyes and drawing blood.
I lived in this hell for over a month and was just about finished off. I was later taken to work downstairs. I was ordered by the prison chief to paint portraits of leading officials in the regime. From then on I gradually regained hope of coming out alive. This gave me a bit more freedom both physically and morally. When I was confined in the upper room, I only got a few spoonfuls of gruel to east but no water to drink. Here I was given two meals of decent food a day. It was sometimes leftovers from what the guards ate, but it was much better than the prisoner rations. My body started to change and I gradually regained the appearance of a human being. But I still felt that I was at death's door. At every instant I was very careful about my physical and moral condition. Although I had to work hard every day, from 6 in the morning until midnight, although with time off for meals, I did so unhesitatingly because it was better than being tied up upstairs with only death as the outcome.
I lived in the S21 Detention Center for one year, from January 7, 1978 to January 7, 1979, the day when I was released. On February 5, 1979, I enrolled in First Division of the army to defend Phnom Penh. In May 1979, I was authorized by the commander-in-chief of the division to go back to my home town to look up my family. I found my wife, but my children had all died of malnutrition. I took my wife with me to live in Phnom Penh, where we still live today.
Links:
S21 Paintings
;
Bophana Center
.