ANDYBROUWER.CO.UK
---
Black Roots - Articles

Black Roots (album review) * * * ½
Dave Massey in Sounds
29 October 1983
For Black Roots, this debut LP presented a dilemma, typical to any hard reggae group: the balance between appeasing their loyal fans and appealing to as wide an audience as possible, to ensure good record sales. At first, I thought 'Black Roots' fell into the 'muted' category, the carefully streamlined production applied to the eight songs showcased here giving a tasteful and refined edge to their arrangements. However, with repeated listenings, it's become clear to me that the octet - always the most forward of the Bristol reggae rockers - have skilfully straddled the poles of that dilemma and come up trumps with a record that can only enhance their already formidable live reputation.
Each song operates within a classic roots reggae structure, based on an always tightly controlled rhythm. Best examples of that mould are the re-worked version of Tribal War, with it's hypnotic bass/drum hip-shaker, the majestic What Them A Do and the gorgeous Move On, both of which utilise horns beautifully; and the militantly uplifting Opportunity, which must be a sure fire candidate as the next single. The only duff track is Africa, full of rasta cliche and marred by a weak vocal, while one other criticism might be that the group over-rely on Frenchie's cultured guitar solos to fill out the songs. But these comments are diminished by the deep strength which Black Roots have at their command. This is likely to be one of the best LP's from a British reggae group for a long time.
Text copyright Sounds 1983, used without permission
---
Black Roots I-View
Maria Barry in Reggae Report Vol 7 # 1
January 1989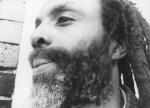 It was at the Mad Professor's Ariwa studio that we ran into Black Roots who were there recording a new single. We chatted briefly with Jabulani, their rhythm guitarist. Their lead singers, drummer and bass player were not at the studio but home in Bristol which is where the group hails from.
Q: How many members in the band? And a brief history of the band? A: Eight. We've been playing since 1979, about ten years. The three albums we have released in that time were on our own label, Nubian Records. The Mad Professor has been our co-producer. Previous to that we had a release on BBC Records (British Broadcasting Corp) and one on K-Tel. Frontline was the name of the one done for the BBC from a comedy series which we did the soundtrack for. Then on Nubian was Black Roots and the third one was All Day and All Night.
Q: What are you recording in the studio today? A: A 12" disco. (The band seemed hesitant about divulging the name of the record but finally admitted that it was a cover version of the Fat Larry band's Zoom).
Q: Who are some of the national acts you have toured with? A: Well, previously we toured Europe with UB40 in 1983. We also toured with Eek-a-Mouse in England, Dennis Bovell, Linton Kwezi Johnson in Europe and England. The last European tour was by ourselves and we still draw a good crowd.
Q: What would you say makes you different from other bands in England? A: I wouldn't say different musically. We're mainly a roots band really but through commercial outlets we a struggle right now. So we are trying to appeal commercially to a wider market. We want to be accepted by certain distributors and certain record companies. In the next album you're going to hear the full extent in which we are trying to keep some people happy. (The bank manager and certain other people).
Q: Does that mean that Black Roots is compromising their sound? A: We are compromising our lyrics. Not the sound. The sound remains the same but the lyrics, not necessarily love songs, are in a sense of peace and love. In England and Europe the record buying public is not really the same as the live audience. Different people buy records than go and see live shows - we ourselves are mainly a live band. We don't sell thousands of records, but we survive through our live shows. So really and truly we keep our live set as the original but we put out one and two kinds of softer records because there are two different kinds of people out there to please.
Most of the band originate in Jamaica and have been in the UK for over 20 years. They say they would love to go there to work with Errol T. and Joe Gibbs one day.
Text copyright Reggae Report 1989, used without permission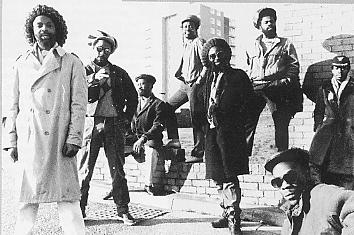 ---
Interview with Black Roots
from www.makasound.com
Jabulani Ngozi, rhythm guitarist and Errol Brown, percussion and vocals with British reggae band Black Roots, are interviewed by www.makasound.com.
How was the Black Roots group founded? J : Black Roots band was formed in 1979 by a couple of us that were in different bands, but known each other from the 60's. So Black Roots came about through friendship. The first bass player Basil Greenwood, Delroy Ogilvie, and I, Jabulani were just playing domino's and from that we decided we're gonna do a band.
This happened in England, but your all born jamaicans? Yeah, we're Jamaican born but we all been in England from childhood. From around 65. We've been through the school system in England. We were unemployed, doing noting special so we decided to go into the music. It just come out of the blues so it was beyond our control.
How was the Black Roots name chosen? J : We just come together and decided that's the right name for the band, cause it's roots we're gonna deal with. In those days there was a lot of stagnation about culture, through the black man culture. And we come to the conclusion, as young youth coming as rastafarians, that we had to let the world know about our roots and culture. So the name came through the message.
How did you and Errol meet? The same way. We from the same community so we see each other everyday, go to the same shop, we go to the same post office, we go to the same bank, and so we just bump in to each other.
Can you present the other members of the group? Yeah, you have Kondwani Ngozi, that's my younger brother, Cordell Francis the lead guitarist, Carlton "Roots" Smith the keyboardist who lives in Bath, Trevor the drummer, and Derrick King the bass player.
Jabulani, you've an African name, it's not common for a Jamaican, can you let us know about that? Yeah, we're ging back to the early 70's. That's when we were trying to find ourselves as youths. My birth name was Errol Thompson, and I know that no black man can historically carry the name of Errol Thompson! That's a slave master name. So I man decided to find myself an African name which is Jabulani Ngozi. So I changed my name, and get free of the slave mind, spiritually and physically. Our roots kind of last after slavery, cause we don't know where we originally from. We know we from West Africa, but what happened to the lineage? We lost it. That's a reasonment you get as a conscious man. We get a broke by the slave master, which today is the politician. Cause they're the slavemasters in nowdays. How is it we couldn't go to the end to find where are roots are? It's like a tree who couldn't find his roots!
And you personally did some research or you choose any African name? No, no special reserach. We just choose an African name that was available. That's a name I choose in a book name, that I feel suitable, kind of confortable with. Ngozi was chosen by my brother. We each choose a first name and then the family name.
Is it a name like this you give yourself or has it officially become your name? No, it has been changed officially. My passport, my birth certificate, and all my papers carry my African name. So from 1979 my name is officially Jabulani Ngozi.
Going back to Black Roots, what was the first album? Black Roots is the first one. The picture on it comes from west countryside in Bristol. That's the closest we could get for the countryside cause it's all concrete jungle around in Bristol. And if you don't know, looking at the picture could let you think it's somewhere in Jamaica or in Africa. It was in summetime, in the evening when the sun is going down and you get that particular light.
Before this album released in 1983, you did some 45 or 12 inch? Yeah, the first record was a 12 inch, "Bristol Rock". Released in 1981. And "Tribal War", "The Father" and "The System" came along together.
You've always been independant. How you first finance yourselves? The community in Bristol helped us a lot at that time. We did a concert and advertised the people that we're doing it to raise some money to do our first single. And we had a full house that night, around 1200 people came. That's how we started on the recording side. But we've been touring around the country for 7 or 8 years, doing four shows per week.
You were an underground group when reggae was already established in England. Yeah reggae was really big through Marley and all them guys. But when you say underground, yes we were for record companies, but not for the people, the public. Record companies didn't want reggae music to sell, so they suppress it. So what we're showing you is that in those days we could go to record companies like Virgin, Island, EMI, or whatever, but they would tell you that lyrics too strong. And yet they would tell you so, but the people who are buying this music are the ones who come to see us on stage. If we play in London in a club on a Thursday night, we get a full house. We play in Brixton Academy, we get a full house. Everywhere in England we get a full house. We're dealing ourselves independantly and we're selling records ouselves. And the record companies would say that they can't sell us. So I never understand what they were saying. So reggae was and is popular to the people who know it and want to hear it.
At the same time, when you started, many Jamaican artists from Jamaica were getting big in London and doing a lot of shows. Did you play with them or share any stage? Yeah sometime. We did a couple shows with John Holt, with Toots & The Maytals, with Freddie McGregor, Ras Michael, support Yellowman as well, Ini Kamoze...Steel Pulse who were the one carrying all shots for roots music in England.
Why you always stick by the roots? That's us. That's what we had to offer to the music business. Like John Holt did what he was doing in a romantic style, and did very well, but we had a message that we wanted to spread. We wanted the younger generation to wake up, to know that it's time to wake up, to stop sleeping, and get some of our youths out of the ghetto. Let them know that there is life after the ghetto. You have to get up and Do something, educationally, educate yourself and move on.
That's what you talk about in Juvenile Delinquent? Yeah man, if you listen to that tune it tell you what we just talk about . Charlie sings that tune. I sing the Father, War, Survival, Far Over, Frontline.
Who wrote them? We all wrote them. Jabulani come up with lots of the lyrics, and we get to rehearse and find the proper way for the tune.
How you chose who sing this or that tune? When the right voice fit. We had a mental approach of the tunes. We always tried to reach the deeper side of the tunes.
You had your own label Nubian. How was it founded? Yeah it was our own label and own publishing company. The creation of this structure is a part of the same struggle. It's Nubian tribe, straight linked to Black Roots.
You had a shop too, I saw it in town. Yeah we had a shop too. And we had a manager too, who we can't forget. Him move back to Spain where he's from but he did a lot for us. He was doing all the managing work, from production to touring.
On the Frontline LP, where is the picture taken from? It's a rehearsal. That's the room we use to rehearse. When them took the picture, we had a break but we had been rehearsing for hours before.
Can you tell us about the tune Far Over? Jabulani wrote that song. It come out from the vibe that we're so far from Africa. You know, it's spiritual level, cause although me live physically in England, a part of me mentally live in Jamaica. And for Africa, it's the same, never been physically but been many times spiritually.
To me to go I have to go in special position, ready to help. I don't want to go Africa as a burden.
When you started, had you any models? In those days we use to listen Burning Spear, The Gladiators, BB Seaton, Heptones, Mighty Diamonds, Bob Marley, Bunny Wailer, Peter Tosh, Justin Hinds...all those people who were the foundation of roots. To me personally Peter Tosh was a man that I admire.
What about the tune What Them A Do? That's about what was happening in Africa and South Africa in those days. We never get any answer to that tune cause they still mash up Africa. We don't see no real changes.
Text Copyright Makasound 2004, used without permission
---
Black Roots - Start Afresh 12" review
I Jabulani Tafari in Reggae Report Vol 7 # 1
January 1989
The vocal qualities exhibited by Black Roots in Start Afresh and a lot of their other songs conjure up pleasant memories of groups like Wailing Souls, the Itals or the Viceroys. Likewise the tempo and arrangement of Black Roots music reminds one of earlier Reggae heydays. Obviously then, Start Afresh is not the usual run of the mill DJ or (quote) dancehall (unquote) type of reggae presently popular in many circles. But that's not bad and for listeners and dancers who love variety and Roots and Culture vocal selections, this 12" release will be right up your street. The disc's B side has two instrumental tracks, Reality Dub and face Dub.
Hailing from St Paul's, Bristol, Black Roots is one of the UK's top touring bands playing universities, colleges, festivals and regular venues. Thus, over the past four years Black Roots have established themselves as a powerful force in British reggae. Adding to their musical complexion of their arrangements is Black Roots' use of brass (horns) in their compositions. In this respect, they have worked with well known and respected musicians like Rico Rodriquez (trombone), Vin Gordon (trombone) and Michael 'Bammie' Rose (tenor, sax and flute).
The band's debut LP, Black Roots, received rave reviews in the English press while the title track of the follow-up album, The Frontline, was composed at the request of BBC TV for a television comedy of the same name. Black Roots also have two other albums to their credit. Black Roots in Session and All Day and All Night. Clearly a very creative and productive group, we can expect a lot more good singles and albums from Black Roots.
Text copyright Reggae Report 1989, used without permission
Did you know?
Did you know? 3 members of Black Roots changed their names from their original birth names. They are: Jabulani Ngozi (his birth name was Errol Thompson), Kondwani Ngozi (Barry Thompson) and Delroy O'gilvie (Charles Bryan).
Did you know? Bristol's vibrant reggae scene developed in the 1970s when various DJs, sound systems and bands would play in venues such as the Bamboo Club, Blue Lagoon, The Dockland Settlement, a variety of 'blues' venues such as 'Ajax' and then more recently in the Malcolm X Centre and The Black Swan (Stapleton Road, Easton). In the early days there were two main bands to come out of Bristol; Black Roots and Talisman. Black Roots came from the St Paul's area of Bristol and had a long lasting impact on the British reggae scene. Championed by John Peel and Kid Jensen on Radio One, they released ten albums in their career and were seen all over the UK at festivals, venues and on the college circuit. Talisman was a multi-ethnic band who again got played by John Peel's Radio One show and became firm favourites on the festival circuit. Dole Age and Run Come Girl, both released in 1981, were their best known single releases. The band comprised: Desmond Taylor (rhythm guitar, lead vox), Bill Bartlett (keyboards), Donald De Cordova (drums), Leroy Forbes (lead guitar, vox), Dennison Joseph (bass guitar, vox) and Brendan Whitmore (sax). Other local reggae acts contained characters that would become local legends. Restriction had a young guitarist called Rob Smith who would later team up with Ray Mighty to form Smith and Mighty. They also had a young engineer called Dave McDonald who would later become the 'fourth' (referred to as such because he was an engineer rather than a musician) member of Portishead.
To read the full Black Roots story, click on www.andybrouwer.co.uk/broots.html
---
Home :: Steel Pulse :: E-mail
The contents of this website cannot be reproduced or copied without permission of the site author. (c) Andy Brouwer 2005